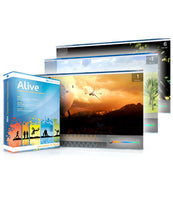 Alive Clinical for Lightstone (finger sensors not included)
Alive is the premier biofeedback system available on the market today.
A great addition to your practice, waiting room, or for at-home training between therapy sessions. Your patients play games engineered to help them better manage stress, train for peak performance, and achieve better emotional and mental balance. Specifically designed to help your clients manage their heart rate variability.
The Clinical version of Alive allows for unlimited users and includes Advanced Graph Training, Session Review, and many best-in-class clinical features: Unlimited user profiles with reset privileges, orientation bypass (Main Menu unlock), and Skin conductance data (Lightstone sensor version only).
Alive Clinical Version benefits
A growing library of clinical training tips and indications written by Yuval Oded of Psy-Phi, including the robust Clinical Version User Guide
Train with an unlimited number of clients per license
Train using Skin Conductance (SCL/GSR) — Lightstone sensors only
Train using detailed Heart Rate, HRV, BVP, and Skin Conductance graphs
View graphs and add comments on your monitor while a client plays Alive on another monitor
Per-session analysis of Heart Rate, Smoothness (coherence), and Skin Conductance
Skip the coach introduction, disable the coach suggestions, change difficulty levels
Export data to Excel, Kubios HRV, or any statistical analysis software using the raw BVP, SCL, and HR data files saved for every session