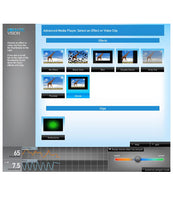 Download only.
Advanced Media Player, one of Somatic Vision's most popular games for neurofeedback, is now available for heart rate variability training with Alive. Train for hours while watching your favorite movies! Once you've added Advanced Media Player to your system, just open Alive and select it from the "games" drop-down list. All sessions are saved and count towards Alive points and training time.
Why add Advanced Media Player to Alive?
Have fun watching your favorite movies while training heart rate smoothness.
Train for hours without getting bored.
Makes heart rate smoothness training fun and easy.
Skin sweat feedback is available when used with Alive Clinical.
Train with video clips that trigger specific fears or difficulties.
View educational content while training for an improved learning experience.