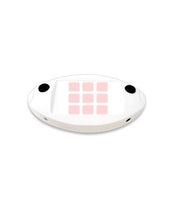 An ultra-flexible, stand-alone device for client progress tracking and continuous performance testing with unprecedented accuracy.
The average response time, variability of response time, number of commission errors and number of omission errors will be displayed. Speed, accuracy, and consistency are all being measured and will be compared to norms after the full test.
Read "The Role of the Continuous Performance Test"
by Siegfried Othmer, Ph.D.
QIKtest Features:
·
Two high-endurance precision buttons - ergonomically positioned for 
simultaneous right and left-hand input
· Visual Stimulus - high brightness 3x3 LED array
· Auditory Stimulus - three-channel sound generator driving the internal speaker 
(also supports headphones)
· Time measurement resolution 0.1 msec
· Memory holds up to 1791 stimulus responses
· Upload test results to eegexpert.com for full reports

Professional analysis through EEG Expert:
·
Easily create visually rich and easy-to-read reports for a better quality 
of interpretation
·
Symptom tracking to follow your client's development with detailed full-color 
and printable reporting
·
Reports are automatically updated with the most current EEG and 
scientific developments