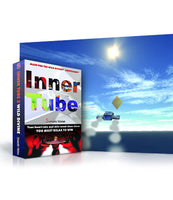 Inner Tube 3 is an exciting heart rate feedback game. Race against the clock to the end of 80 tunnel levels. Ship speed, fog and music volume respond to your stress levels, so you have to relax to complete your mission.
This game uses a science-fiction setting to teach useful skills for kids, parents, athletes, executives and anyone who needs to stay relaxed, responsive and resourceful under pressure. Fun for kids, teens and gamers.
Easy for adults / non-gamers with "auto-pilot" mode. Inner Tube 3 has been successful worldwide with clinicians and users of all ages, and it is easy to use.
Why Inner Tube?
Improves performance in school, sports and at work.
Adults learn to stay relaxed in challenging situations.
Kids learn how to relax while playing a video game.