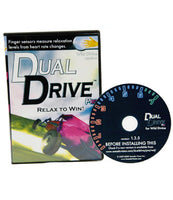 This item is a download only version of Dual Drive Pro.
Download the demo version, and after your order has been processed you will receive an email (please allow up to 24 hours) with the unlock code.
Somatic Vision's off-road racing game, Dual Drive Pro is packed with new consumer and clinical features, including user management, session recording, session review, progress reports, and graph training. Dual Drive Pro's beautiful graphics, 7 customizable race cars, and 9 off-road levels make it a hit for kids and adults alike. Dual Drive Pro is easy to use and starts off with a useful introduction that teaches you how to breathe to raise your heart rate variability. While playing Dual Drive Pro a breath pacer continues to help you breathe for optimal relaxation. Dual Drive Pro is completely customizable for advanced users, and point and click simple for first-time users and kids. This game will be an excellent choice for clinicians working with kids or parents who have a child they want relaxed while playing a fun video game.
PLEASE NOTE: This software download only product does not come with finger sensors, you must already own Wild Divine or Healing Rhythms.
Minimum Requirements:
Wild Divine Lightstone or Healing Rhythms hardware
Windows XP or Vista
Intel Pentium IV Processor
128 Mb OpenGL Video Card
512 MB RAM CD-ROM drive
500 MB of Disk Space