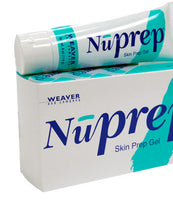 NuPrep™ Helps Improve EEG and ECG Tracings
If you have difficulty getting the quality of EEG or ECG tracing you want, the problem may be poor skin prep at the electrode site. Poorly prepped skin results in poor signal conductivity and weak tracings. The answer: proper site preparation with NuPrep™ skin prepping gel.
By following proper skin prepping procedures, you can resolve a number of the motion artifact and "60 cycle" problems that you may have thought were a routine part of certain EEG and ECG monitoring procedures.
Proven Performance
NuPrep skin prepping gel has been used successfully over the past 10 years by EEG and ECG technologists in hundreds of hospitals in the U.S. and abroad. The mild abrasive in this patient friendly gel helps lower impedances at the electrode site with minimal discomfort and irritation. The result: improved tracings.
Easy, Convenient and Patient Friendly
NuPrep gel is easy and pleasant to use. The tube's flip-top cap lets you dispense the gel with one hand, leaving the other free. And the flat top lets you stand the tube on its head within easy reach. NuPrep gel has a consistent texture, so it won't "blurt" when applied. You can dispense precisely the amount you need.
Cost Effective
When you consider the time and expense involved in redoing even one EEG or ECG test, a single tube of NuPrep gel can pay for itself many times over.
General Uses
NuPrep gel is especially beneficial for use where diaphoresis and/or motion artifact can affect readings, and when a reduction of skin impedance would enhance a test result. Some applications for NuPrep gel include:
EEG exams

Evoked potential procedures

Stress tests

Holter monitoring

Cardiac rehabilitation monitoring

Cardiac catheter monitoring

ECG telemetry

Sleep tests

Audiology tests

Intraoperative monitoring